REFEREED JOURNAL ARTICLES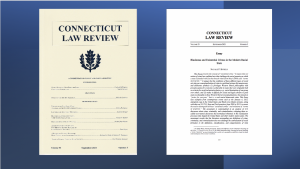 Byfield, Natalie P., "Blackness and Existential Crimes in the Modern Racial State" (2021). Connecticut Law Review. 508.
https://opencommons.uconn.edu/law_review/508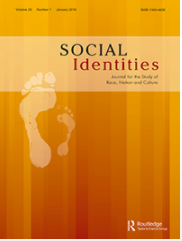 Byfield, N.P. (2019). "Race Science and Surveillance: Police as the New Race Scientists,"
Social Identities: Journal for the Study of Race, Nation and Culture. Vol 25:76-90
DOI: 10.1080/13504630.2017.1418599 (Cites/Doc – 2yrs – 1.14)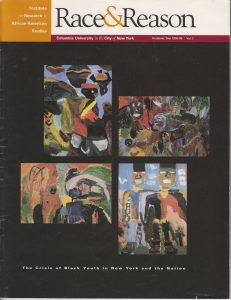 Byfield, N. P. 1996. "The Crisis of Black Youth in New York City," Race and Reason,
New York: Institute for Research in African-American Studies, Columbia University pp. 30-36
Byfield, N. P. [Accepted] "Black Students and the University: Strategies for
Transformational Pedagogy." Humanity & Society. (Minor revisions required)
REFEREED JOURNAL ARTICLES – INVITED
Byfield, N. P. (2019). "Fighting in the Core: Questioning the Last Century's Debates over
Race, Class, and Gender." Human Architecture: Journal of the Sociology of Self-Knowledge. Vol. 12:1. (reprint of Bush, Melanie E.L. et. al.).
BOOK REVIEW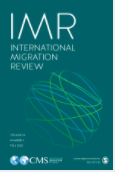 Byfield, N. P. 2006. Review of the Encyclopedia of Racism in the United States.
International Migration Review 40:4:980-981 (Impact Factor – 1.94)
PUBLIC SCHOLARSHIP
Monteiro, Basilio and Natalie Byfield. "Quis custodiet ipsos custodes?" Bruno Latour & The Need for a New Critical Science of 'Science & Technology' Symposium," October 28, 2019.
https://instituteicm.com/2019/10/28/whowillwatchthewatchers-iicm-symposium/#more-3169
Byfield, N.P. 2018. "The Politics of the N-Word," The Torch, March 21, 2018.
Vol 95:17:13. https://issuu.com/sjutorch/docs/final_book_v2_a0b5ffac5b71c8
Byfield, N. P. 2015. "#BlackLivesMatter: We Still Have to Fight for the Right To Exist,"
The Huffington Post. February 21, 2015. http://huff.to/1IqySSv
Byfield, N. P. 2014. "The Legacy of the Central Park Jogger 'Wilding'," The Huffington
Post. May 27, 2014. http://huff.to/1gz5T2B
Byfield, N. P. 2014. "The Central Park Jogger Case Is Settled for $40 Million, But What
About Justice for Other Black and Latino Teens?" The Huffington Post. June 25,
Byfield, N. P. 2012. "A Time, and a Way, to Heal," The New York Times. November 19,
2012.
http://www.nytimes.com/roomfordebate/2012/11/19/justice-and-the-central-park-jogger-case/healing-from-the-central-park-jogger-case