NEWS/ARTICLES
Simões-Gomes, L.P. and Perón, A. E. (2020). Race and Criminology through the lens of a sociologist: Interview with Natalie Byfield. Tempo Social. São Paulo, Brazil: University of São Paulo.
Geledés, "Nos EUA, houve um aumento nas taxas de detenção entre negros e latinos, o
que me levou à uma nova pesquisa," August 30, 2019 (Brazil)
https://www.geledes.org.br/nos-eua-houve-um-aumento-nas-taxas-de-detencao-entre-negros-e-latinos-o-que-me-levou-a-uma-nova-pesquisa/
Latin American Network for Surveillance, Technology, and Society Studies, "Data is a
form of police population management, August 27, 2019 (Brazil)
http://lavits.org/os-dados-sao-uma-forma-de-gerenciamento-policial-das-populacoes-afirma-natalie-byfield/?lang=pt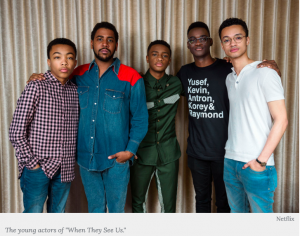 Juvenile Justice Information Exchange, Netflix Show an Inside Look at Power of Prosecutors, Media in Youth Justice Cases, June 4, 2019
https://jjie.org/2019/06/04/netflix-show-an-inside-look-at-power-of-prosecutors-media-in-youth-incarceration-cases/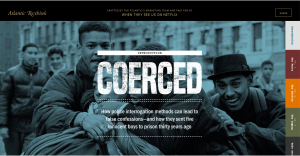 TheAtlantic.Com "Coerced" sponsored content paid for by Ava DuVernay's limited Netflix
series "When They See Us" May 31, 2019
https://www.theatlantic.com/sponsored/netflix-cp5-2019/coerced/3070/
Teen Vogue (online) "Netflix's When They See Us Is a Lesson on the Danger of Implicit
Bias," May 31, 2019.
https://www.teenvogue.com/story/netflix-when-they-see-us-racism
"A&E Television (online)" "What Happened to the Central Park Five," May 28th, 2019
https://www.aetv.com/real-crime/central-park-five-now
Town & Country, "Ava DuVernay's When They See Us Was Designed to Inspire Change,"
May 8, 2019
https://www.townandcountrymag.com/leisure/arts-and-culture/a27325297/ava-duvernay-when-they-see-us-central-park-five-netflix-interview/
Clio: Among the Media, Autumn 2016 Vol. 51, No. 1
Newsletter of the History Division of the Association for Education in Journalism
and Mass Communication: Featured in the column "TEACHING STANDARDS."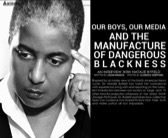 Afro Style Magazine – Featured in Issue 11, 03/15
"Our Boys, Our Media and the Manufacture of Dangerous Blackness"
http://www.afrostylemag.com/ASM11/natalie_byfield.php
Lance Armstrong is seen here during an interview with Oprah Winfrey aired on Jan. 17th Oprah Winfrey Network Via Getty Images
U.S.A. Today – January 24, 2013
"Celeb liars, fakers: Does it matter if it's real or not?
https://www.usatoday.com/story/news/nation/2013/01/24/beyonce-reality-tv-deception-armstrong-liars/1862973/